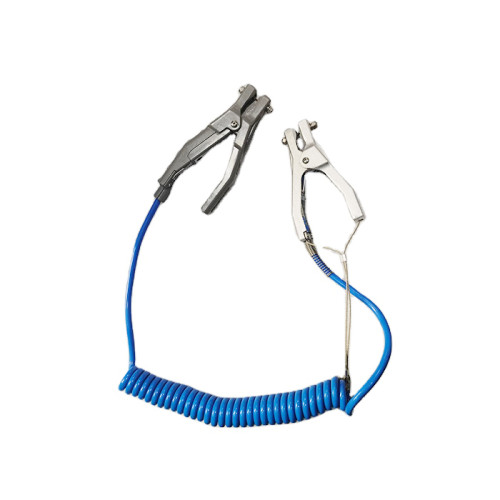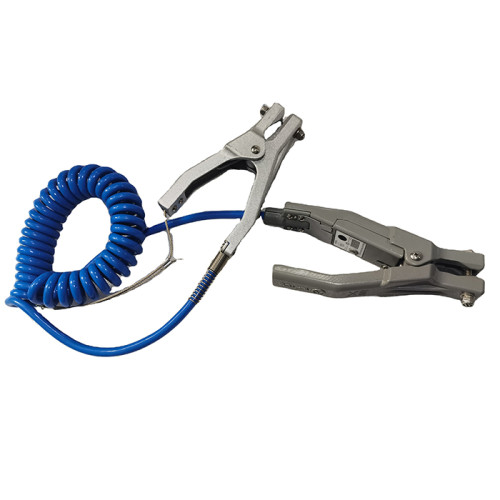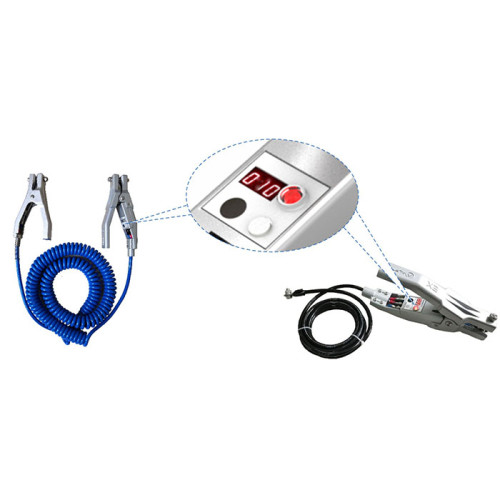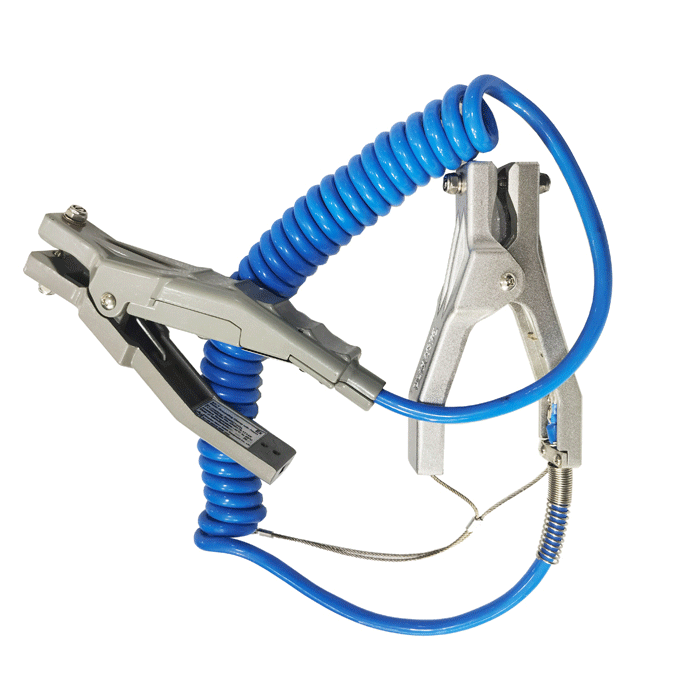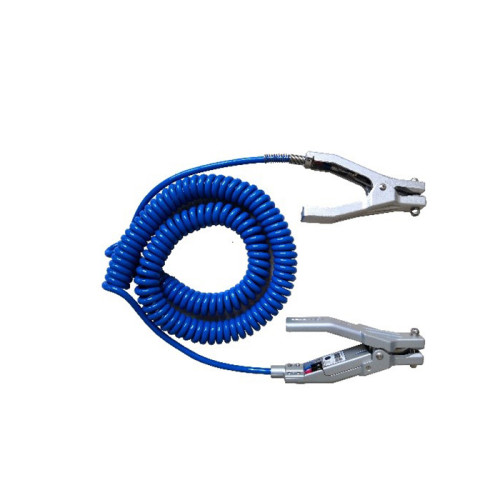 Electrostatic ground connection clamp for mobile vehicles collecting and transferring flammable / combustible products
Item specifics
Structure

1 SA-Y clamp+ 5m spiral cable+1 SC-02 clamp
Clamp Material

Aluminum
Cable Material

Copper
Cable Length

5m
Gross Weight

1.6kgs
Description
The accumulation of static charges during the fueling transfer process can lead to costly explosions, fire and personnel injury. The Grounding Clamp to discharge static and verify proper grounding. Electrostatic ground connection system is intrinsically safe for use in hazardous locations.

1. Low energy consumption design of Self testing clamps with visual indication makes battery replacement unnecessary during normal operation.
2. Audible and visible alarms
3. Digitron resistance display
4. After 1 minutes' continuous alarm it will be in the resting status and it will return to normal in a closed circuit.
5. Circuit part is totally enveloped by epoxy resin which makes it damp-proof, rustproof, erosion-proof and shock-proof.
6. The static grounding clamp can penetrate the paint and rust and insure the bodywork is effectively grounded.
7. It insures the resistance between the tanker truck and the ground stud not bigger 10Ω (meeting the state standard of less than 100Ω).
8. The coat of the ground cable is made of special rubber with the characteristic of high or low temperature-proof, corrosion-proof and oil-proof.
9. The standard cable length is 5 m. Other length is available upon request.
1. Response time: <2s
2. Alarm volume : >90dB (measured by a-30cm straight distance)
3. Battery: Lithium battery(3.6V)
4. Ambient temperature:-40 to+60℃
5. Explosion-protection Mark: Exia IICT4G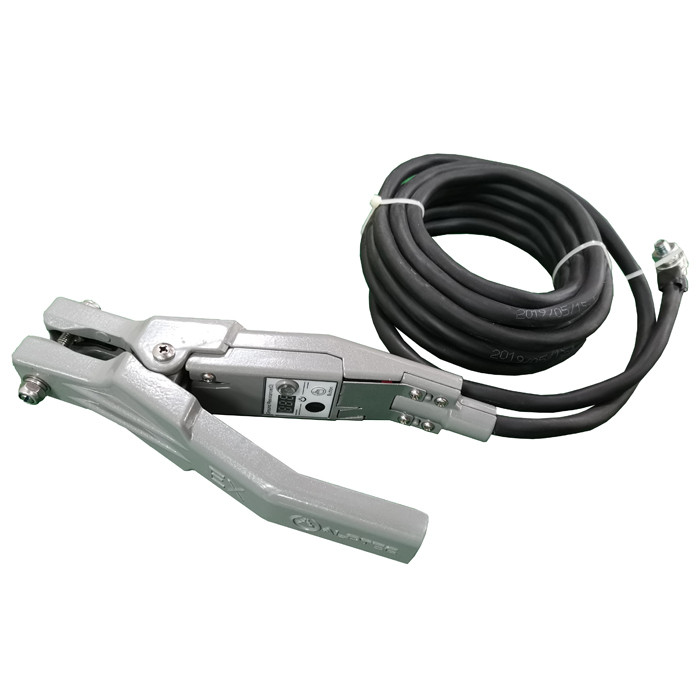 Cable length:5m(16.4ft.)
Clamp:SA-Y(visible and audible alarms)
Lug:60A(SC35-10,φ10MM)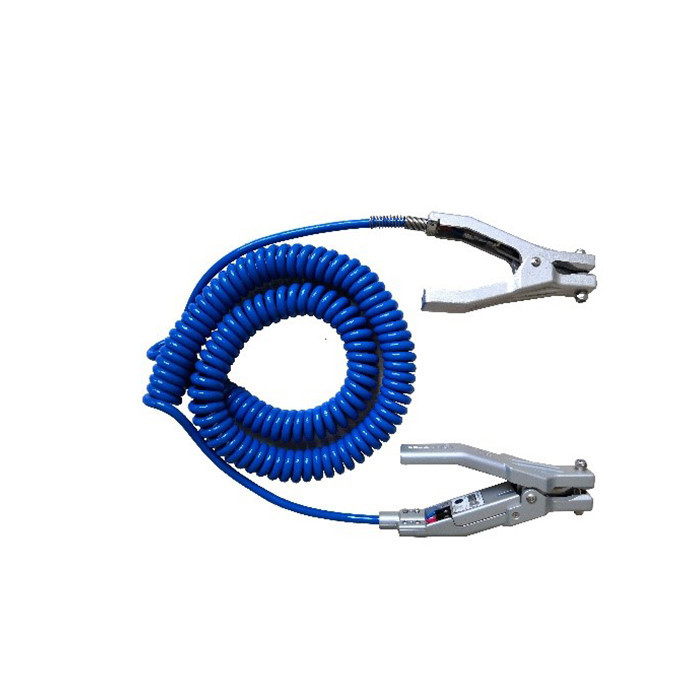 Model:SA-YP(Mobile)

Cable length:5m(16.4ft.) spiral cable

Clamp 1: SA-Y(visible and audible alarms)
Clamp 2:SC-02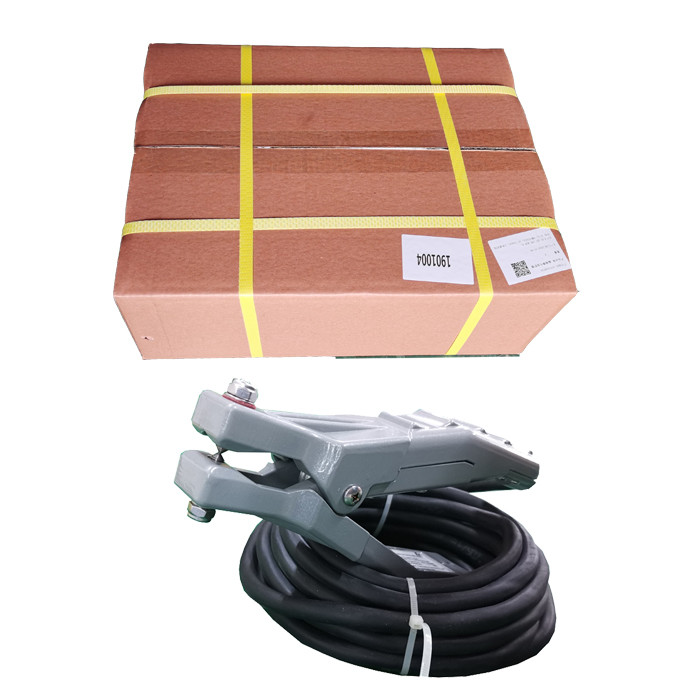 Packaging: cartons(10 pcs in one carton)
Delivery time:
2 days after payment
Delivery: by sea or courier such as FedEx, DHL, TNT, UPS
1. Sufficient Inventory; we have 100 pcs in stock.



2. Alptec is Sinopec and PetroChina's preferred brand and the supplier of big companies; such as BP, PPG, Total, Shell.




3. We participate in international exhibitions every year and welcome customers to visit.
1). ADIPEC 1-4 November 2010 in UAE
2). STOC EXPO EUROPE 2012 in Rotterdam
3). NACS Show 2012 in Las Vegas
4). STOC EXPO Asia 2014 in Singapore
5). 16th Pakistan Oil & Gas Exhibition - POGEE 2018
6). STOC EXPO EUROPE 26-28 March 2019 in Rotterdam
7). OIL & GAS Thailand 09-11 October 2019




4. Excellence in the industry with over 26 years' experience
5. Good reputation; the failure rate was 0.1% in the past dozen years, .
6. High quality guaranteed; 1 year warranty
7. Competitive factory-direct sale price
8. Prompt delivery, it will take 5-7 business day for transportation
9. Good after-sales service; 12 hours to respond to customer requirements, and new accessories will be mailed free of charge during the warranty period.
10. Accept urgent order, large stock to meet your enquiry.

1. When using the SC series static grounding clamps, open the clamp, clip the clamp on the equipment to be grounded, shake the clamp to get rid of the paint or rust to ensure good contact. Open the clamp and remove it after using.
2. When using the PC and CC series static grounding clamps, unscrew the bolt until the clamp can be fixed to pipes or flat materials, and then tighten the bolt to ensure good contact. Unscrew the bolt and remove the clamps after using.
3. When using the PC and CC series static grounding clamps, fix one end according to the method above and then fix the other end.

Step1: Open the clamp, there will be alarm; if you hear no alarm, please go to 7.0 Trouble Shooting.
Step2: Clip the clamp on the tanker truck and shake the clamp to remove the paint or rust until no alarm stops.
Step3: After the loading operation has been finished, pick up the clamp from the tanker truck and put it back on to the original place.