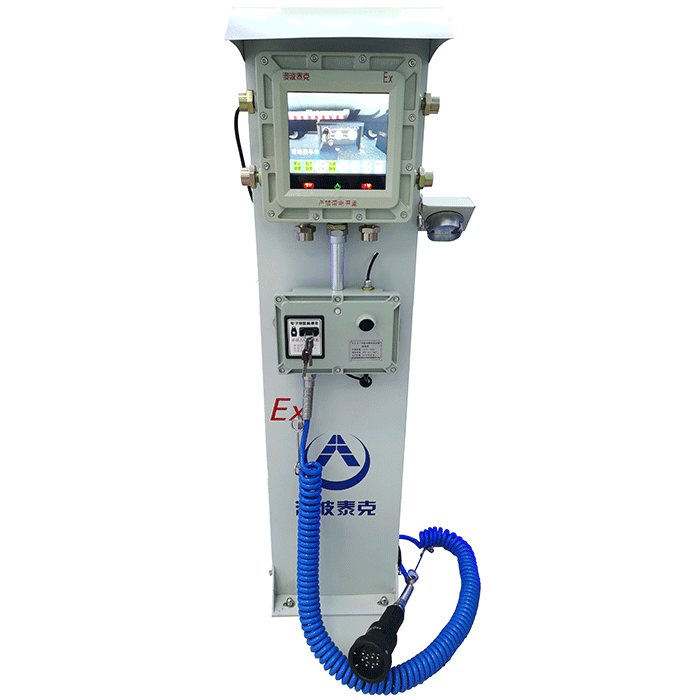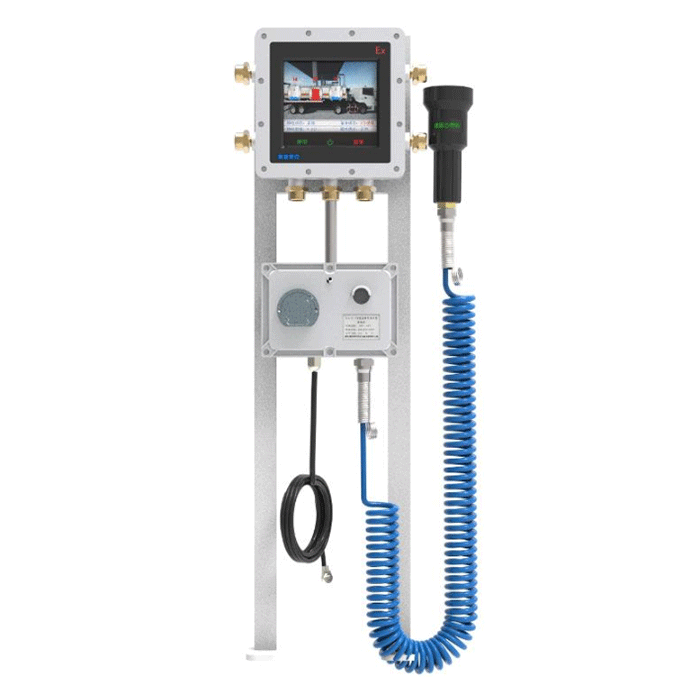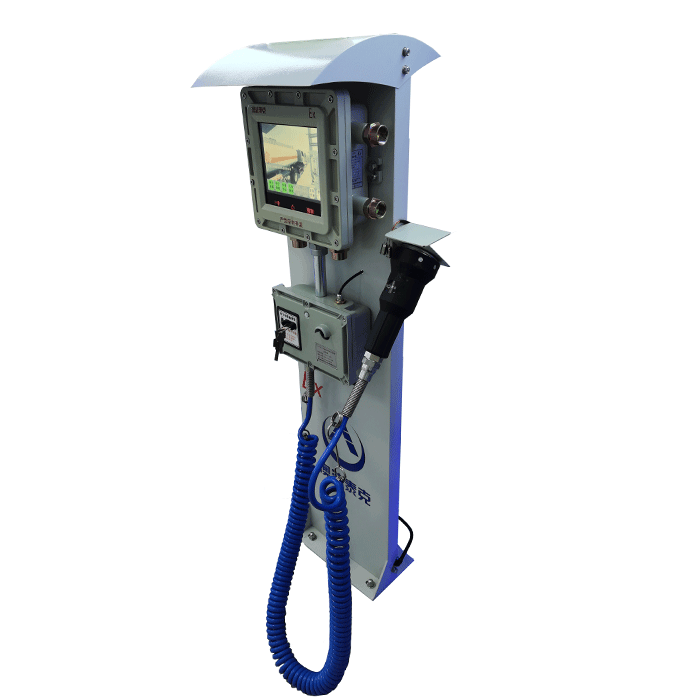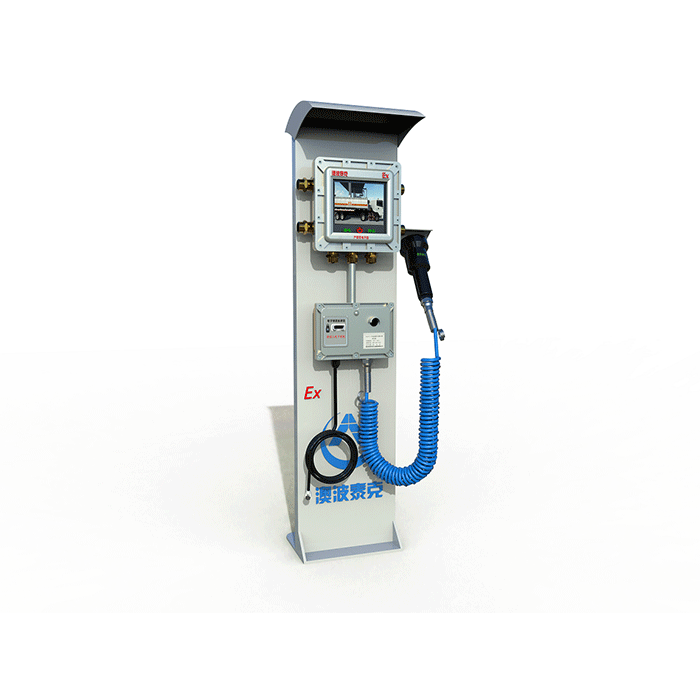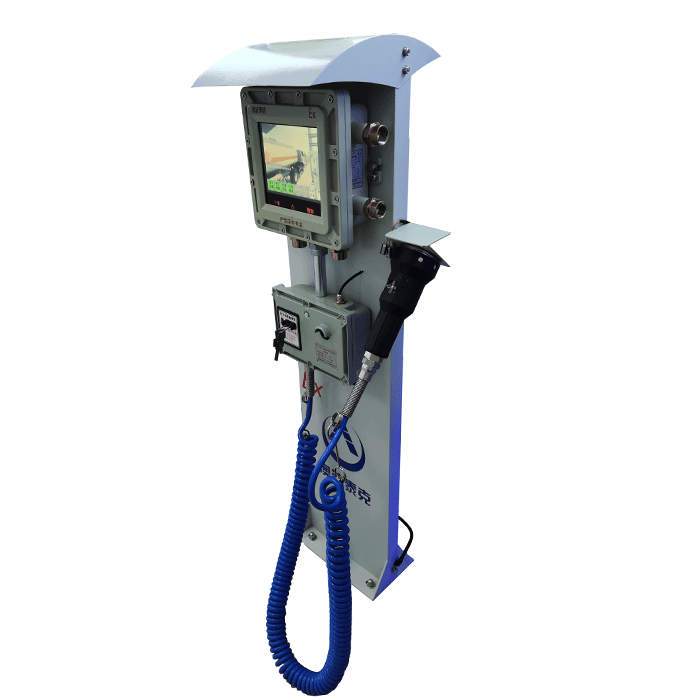 Rack Monitor with video demo for bottom loading
Item specifics
Plug cable length

8m
Display

Process animation demonstration
Plug

5-pins
Grounding resistance

<60Ω
Description
The overflow and grounding system is designed to prevent the overflow of liquid and guarantee that the static grounding resistance meets the prescription of relevant safety regulation, it especially suitable to be used Zone 2 where the highly inflammable and explosive petrochemicals are frequently transferred, such as:
1. The loading of gasoline, diesel, kerosene and other light oil.
2. The loading of liquid benzenes and hydrocarbons.
3. The canning system of other chemical products.
1. Capable of monitoring tank trucks with up to 6 compartments when equipped with optical sensors.
2. The video demo shows the whole loading process,
3. The 8 inch LCD screen provides a complete process animation demonstration for the staff to operate according to the process and understand the working condition of the system in time.
4. P02 plug meets API Recommended Practice. Connected with sockets on trucks, it monitors the grounding and overfilling status during loading process in time.
5. The external intrinsic safety touch screen can be set humanized without opening the cover to enhance human-computer interaction
6. With the cooperation of self-testing socket, display the truck compartment status of alarm, fault, shielding and other information in all time to ensure the safe loading.
7. Outputs on-off signal that indict the status of liquid level and static grounding to the Terminal Automation System.
8. Compatible and interchangeable with optical overfill sensors and sockets that meet API standards.
9. Real-time ground loop detection and resistance value display.
10. Outputs the homing signal and detects homing status of the plug.
11. Ensure the resistance value between the tank truck to the grounding point is not higher than 60Ω (meets the stipulate of lower than 100 Ω required by Chinese government).
12. We offer standard installing bracket.
1. Power supply: 220 VAC±10%
2. Working current: <50mA
3. Response time: <2 Seconds
4. Explosion-protection grade: ExdiaⅡBT6 Gc
5. Ingress protection: control unit: IP 65
6. Grounding resistance: <60Ω
7. Alarm voice: >103dB
8. Operation temperature: -40℃to +60℃
9. Output signal: relay signal or 485 signal (can be customized)
4.System Elements and Function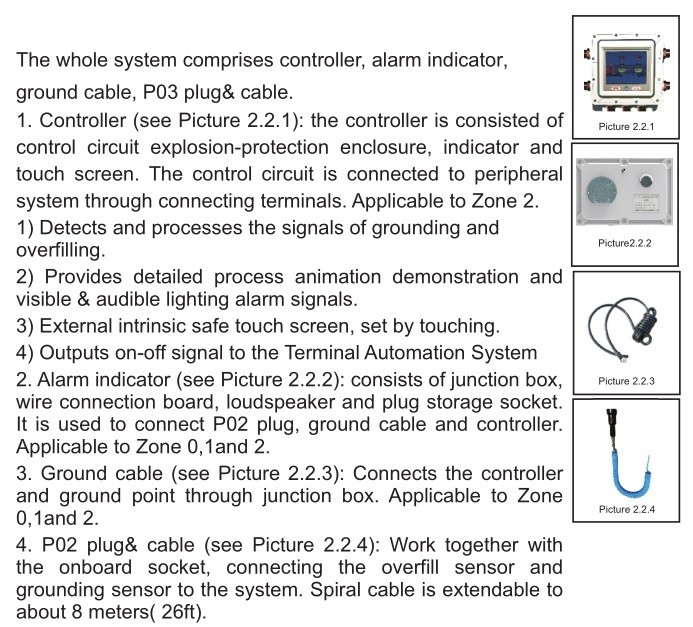 5. Installation Diagram & Dimensions